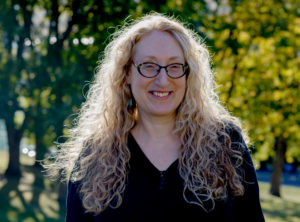 I'm the author of five full-length books: Finalist for the Academy of American Poets' Walt Whitman Award, BLACK SEEDS ON A WHITE DISH (Shearsman, 2011); Short-listed for Utah's 13 Byte Book Award, DOOR OF THIN SKINS (CavanKerry Press, 2013); Finalist for the National Poetry Series and APR/Honickman Awards, HOW DO I NET THEE (Salmon Poetry, 2018); THE SUN A BLAZING ZERO (Lavender Ink/Diálogos, 2019); and SISYPHUSINA (forthcoming from PANK BOOKS in 2020).  I'm also the author of two chapbooks, LEAF WEATHER (Tilt Press, 2009; re-printed by Shearsman, 2011), and FLOUNDERS (Essay Press, 2016).
My books have been favorably reviewed in many literary magazines including American Book Review, Rain Taxi, Boston Review, Rumpus, Georgia Review, Colorado Review, Rattle, Tarpaulin Sky, Diagram, CutBank, Pleiades, Fourth Genre, Brooklyn Rail, and Denver Quarterly. My first book, black seeds on white dish, was featured in Poets & Writers' annual 10 Debut Poets issue. Interviews with me about my books have been featured in venues such as The Rumpus. Ploughshares, and OmniVerse.
My poetry, prose, and visual writing has appeared and is forthcoming in many journals including Poetry,  The American Poetry Review, The Iowa Review, New American Writing, Lana Turner, Western Humanities Review, and Brooklyn Rail, and has been featured in the Academy of American Poets' Poem-a-Day series (Poets.org), NPR, Poetry Daily, Verse Daily, and OmniVerse. I am the recipient of awards including an Academy of American Poets' Prize, The Poetry Society of America's Lyric Poem and Cecil Hemley Memorial Awards, Electronic Poetry Review's Discovery Award, and Painted Bride Quarterly's Poetry Prize, and the recipient of a Tanner Center for the Humanities Fellowship and residencies at MacDowell Arts Colony, Squaw Valley Writers' Community, Ragdale Foundation, and Vermont Studio Center.
Before returning to school for graduate studies, I worked as a graphic artist, typesetter, and Assistant Art Director in NYC, mainly in the music industry. A graduate of the Iowa Writers' Workshop, I hold a Ph.D. in creative writing and literature from the University of Utah. I was Drunken Boat's Reviews Editor & curated DB blog's feature, "What I'm Reading Now…" from 2011-2016, and curate this feature now at Tarpaulin Sky where I'm currently Special Features Editor.

I have taught literature, expository writing, and creative writing to college and high school students, and taught English as a NYC Teaching Fellow in a Brooklyn public high school before moving to Iowa City. I was Writer-in-Residence at The New College of Florida in Sarasota for Spring 2012 (Poetry) and Spring 2013 (Fiction), and currently am Senior Lecturer in Creative Writing at Rensselaer Polytechnic Institute in Troy, NY, where I teach poetry, fiction, and creative nonfiction writing workshops.
I love to give readings, and am available to lead short-term writing workshops and courses. I teach intensive one-day and two-day poetry and creative nonfiction workshops at such places as the Word Barn in Exeter, NH, Hudson Valley Writer's Center in Upstate NY, and St. August Occasion Retreat in Clinton, NY .
I talked about my second book, a hybrid memoir, the door of thin skins, at the Chattequa Literary Festival 2019 on the panel, "Reclaiming Voice: The Recuperative Promise of Poetry," this summer. I talked about this topic from personal and artistic standpoints, including craft-wise. Among the things I discussed are how I was able to work through the challenges of composing a work of art to give expression to a topic that encounters and provokes much resistance, the necessity and benefits of reclaiming voice as a human and artist, and the ongoing work of this book. "door of thin skins is a perfect title for Shira Dentz's latest work. In this fever dream of a book, Dentz's language is like a spirit who can pass through the scrims of time and perspective, but not unscathed. These poems are the toll. She sings what fails to kill us." —Cornelius Eady
Contact: shirad@earthlink.net
Read Kelly Lydick's interview with me in the Fall 2019 print issue of Rain Taxi Review of Books
Read John Keene, Poems: Shira Dentz & Robert Hayden
Read rob mclennan's interview with me here
Read Xin Koh Xin Tian's interview with me at Ploughshares here
Read Aimee Herman's interview with me at great weather for MEDIA here
Read Stacy Kidd's interview with me in The Rumpus here
Read Nin Andrew's interview with me on CavanKerry Press' blog here
Read Statement of Poetics in Poet-of-the-Month feature at Poetrynet.org here
Read Pepper Luboff's interview with me in OmniVerse here
"Sisyphusina," Academy of American Poets' Poem-a-Day
"a woman all about love yesterday," Academy of American Poets' Poem-a-Day
"spoke," Verse Daily
"patriarch sky," Poetry Daily
"Blue Skies," NPR
"Scale," Poetry Foundation, and a broadside of this poem is available at Wells Book Arts Center here