how do i net thee (Salmon Poetry, April 28 2018)
A finalist for the National Poetry Series and APR's Honickman Award, how do I net thee is a diagram of a voice drawn through lyric, visual, and prose poems threading schisms—within a family, within a society brutalized by racial tensions, and within the space crossed in the transition from fertility to its loss.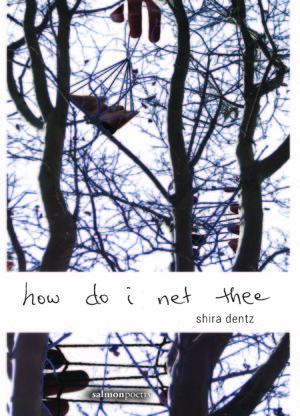 Language whips around wildly but wisely in Shira Dentz's latest superb collection. Seamlessly blending the vernacular with the erudite, she echoes her dynamic phrasings with dynamic typography, and yet what accrues, above all, throughout the book is a sense of her profound engagement with the world. The book is aloft by principle, and alive with it.
—Cole Swensen
how do i net thee asks Shira Dentz in her brilliant new book. Cast across the turbulent sea of language, these poems bring back to us a medley of phrases, voices that capture an ecstatic, coruscating world of trauma, loss & retrieval. Here is "the Book of Anger in the shape of a dog"; a vagina with "three white waterfalls"; "the heel of an echo" that soars "on falcon wings." Following in the footsteps of her great precursors, Virginia Woolf, Gertrude Stein, Adrienne Rich, Dentz's luminous poems reveal to us "a woman's secret language" from "a mouth inside herself." Read them!
—L. S. Asekoff
You can buy how do i net thee at Amazon U.S., Amazon U.K., Salmon Poetry, and selected bookstores.
The U.S. Distributor is Dufour Editions (contact: Duncan May), and bookstores and libraries can also order through Ingram and Yankee Book Peddler.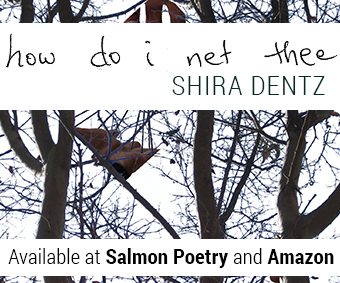 Reviewed in The Adroit Journal here
Reviewed in The Iowa Review here
__________________________________________________________
FLOUNDERS (Essay Press, 2016) Free & downloadable!
Classical beauty depends on symmetry, and our love for symmetry is organic and essential to our survival as individuals and as a species, reproductively (signaling health in a mate) and otherwise. In this work, I engage with notions of form and beauty that I, as an artist and a social being, have inherited and tacitly acknowledge or actively work against. Now, to return full circle to consistency, I leave off with another excerpt, but from an earlier work—
"Nothing to do but let the form of things take over."
AN EXCERPT FRO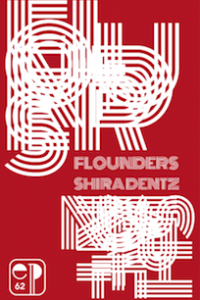 M EP 62
"Just sitting on my wrist feeling stupid feeling blue the sky white across a band of sunlight no gauze the trees making v's with their arms ~ want to look at the paper now. there'll be a story about egypt. the people are free but the media blitz makes it controlled. free, controlled. when the snow clears i can see cars on roads didn't know existed. keep eating clementines. they're so tiny and tasty. the tree shaves against the window. clouds white hair."
Read Koh Xin Tian's interview with me about FLOUNDERS at Plougshares' blog here
Reviewed by Cody Stetzel in Glass: A Journal of Poetry
__________________________________________________________
 door of thin skins (CavanKerry Press, 2013)
A hybrid of poetry, prose, and visual elements, door of thin skins is a tale that unfolds in a psychotherapist's and a state prosecutor's office and the mind of the poet regarding it all–
door of thin skins deconstructs the nature of psychological power through a reconstruction akin to a psychological diorama. The book's events, narrated by a young woman in psychotherapy, unfold in  non-chronological sequence, and recurring phrases, images, and events unify and deepen the narrative whose formal construction mirrors the process of psychotherapy. As a patient-therapist relationship becomes dependent and sexual, resulting in a precarious blurring of boundaries, the text alternates between the straightforward and syntactically disjunctive. Visual poems contribute another layer towards enacting one of the book's themes, a fracturing of the narrator's sight and simultaneous and conflicting perceptions of reality. The book's formal experimentation echoes and challenges Wittgenstein's "the limits of my language mean the limits of my world." In addition to its innovative poetics, this book's voice, first published in 2013, is  among the voices precursory to the #MeToo movement.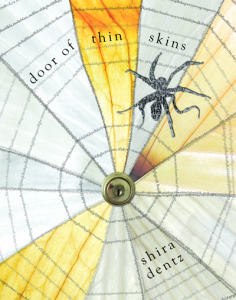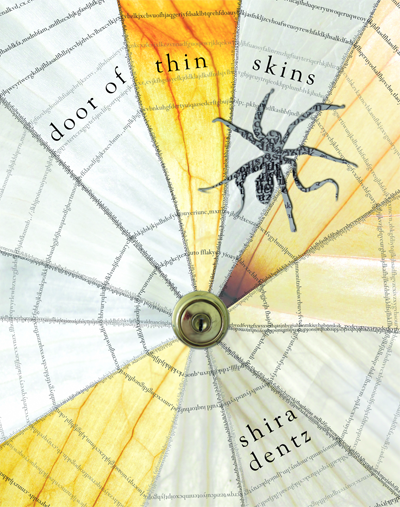 door of thin skins is a perfect title for Shira Dentz' latest work. In this fever dream of a book, Dentz's language is like a spirit who can pass through the scrims of time and perspective, but not unscathed. These poems are the toll. She sings what fails to kill us. —Cornelius Eady
door of thin skins tracks the misuse of power in a patient/doctor relationship in shattering detail. A patient is cut off from her body and the doctor imposes his. Her senses have dispersed as if to escape the troubled site. In these poems, the experiences that tear the mind and the mind's language must be recollected in language, which becomes a reenactment of the wounding. What the poet must do, and does, is let language be torn apart so that the senses (sense) may re-collect in beauty, in the body of the poem.
—Eleni Sikelianos
Here is David as a 21-year-old confused girl in boyish clothes and Goliath as a golden-credentialed 60-year-old psychotherapist in orthopedic shoes who jeopardizes his career when he sexually crosses the line with his young patient, then continually questions the reality of her perceptions. Shira Dentz's brilliant poetic amalgam of circumstance and the mind's second-guessing, door of thin skins presents a contemporary David and Goliath tale that unfolds in a psychotherapist's office, a state prosecutor's office, and the crystalline mind of the poet regarding it all. Poetry itself becomes the slingshot in this face-off. The poet's clever innovation of an edgy and oddball brand of avant-garde song-and-response tells this tale through a mix of thought, feeling, fact, history, and personal history and a riveting pastiche of rhythmical poetry, visual poetry and prose poetry. Dentz triumphs in her dazzling and fractured narrative; door of thin skins startles and astounds.
—Molly Peacock
Shira Dentz's door of thin skins is not only an intimate narrative of seduction and abuse, but a tour de force of assemblage. Each gallery-worthy page is meticulously arranged, prose overlain with lyric sequences, visual space with visual density. From every angle, door of thin skins is a chilling and exquisite document.
—Karen Brennan
You can buy the book at Amazon here
Or buy it at from the publisher, CavanKerry Press
The book's distributor is University Press of New England (UPNE)
Read an interview with me about the book by Nin Andrews here
Read an interview with me about the book by Pepper Luboff on OmniVerse at Omnidawn Publishing  here
Eileen Tabios, the editor of Galatea Resurrects, blogs about door of thin skins here
Read a review at NewPages here
Read a review by Brenda Sieczkowski in Tarpaulin Sky here
Read a review by Sandy Florian in HTML Giant here
Read a review by Kay Cosgrove in Green Mountain Review here
Read a review by Nicole Sheets in Diagram New Michigan Press here
Read a review by Jane L. Carman in American Book Review, Sex Writing, edited by Cris Mazza here
Read a review by Ann Fisher-Wirth in Rattle  here
Read a review by Nicole Walker in The Rumpus here
Reviewed by Megan Burns in Rain Taxi
In Jill Magi's imagined interdisciplinary course on violence and nonviolence

Reviewed by Eileen Tabios in Galatea Resurrects
Reviewed by Sima Rabinowitz in Galatea Resurrects
Reviewed by Michael McLane in Cutbank
Reviewed by Danielle Cadenza Deulen in Georgia Review
Reviewed by Aviya Kushner in Salamander
Reviewed in Chronogram's annual poetry roundup in its June 2014 issue here
Short-listed for Utah's 13 Bytes Magazine Poetry Book Award
Reviewed by Kristina Marie Darling in American Literary Review

Reviewed by Marthe Reed in Denver Quarterly
Reviewed by Kathline Carr in Grab the Lapels
Reviewed by Holly Welker in Fourth Genre, Spring 2016
Reviewed by Zoran Rosko at his blog
door of thin skins is also available for purchase at bookstores including:
Prairie Lights Bookstore, Iowa City, IA
Harvard Bookstore, Boston, MA
Grolier Poetry Bookshop, Boston, MA
King's English Bookstore, Salt Lake City, UT
Northshire Bookstore, Saratoga Springs, NY
Market Block Bookstore, Troy, NY
Watch a book trailer for door of thin skins here
__________________________________________________________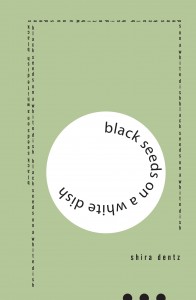 black seeds on a white dish (Shearsman Books), 2010

black seeds on a white dish was nominated for the PEN/Joyce Osterweil Award  2011 from PEN's American Center, and was featured in Poets & Writers' sixth annual feature on debut poetry books (Jan./Feb. issue).

The poems in black seeds on a white dish spring from the search for what is generated and discovered when loss and desire occupy the same space. But lamentation is not the primary focus—by destabilizing everything in its reach, loss disables rigidity. These poems shift widely in form and tone, and seeds invoke the creative germ that spurs the metamorphoses occupying them: "Nothing to do but let the form of things take over." Shapes themselves, including punctuation, become a language throughout.
"Paul Cézanne once quietly avowed 'I will astonish Paris with an apple.' And now I may, with quite an equal confidence, announce that Shira Dentz will astonish us all with the 'the curve of a melon,' 'a sunray diagonal' and 'pumpkin seeds.' Which is to say that here is a book to unstill all the still life images resting in our hearts. Shira Dentz is the most powerfully delicate poet I know."
—Donald Revell
Perhaps it is as a word-salad that 'A Thin Green Line' actually makes itself known, but if a word-salad, this poem gathers all greens… There is then, an immediate sense thatlanguage is a collection, a miscellany informed with a pungent historicity of specific culture and rendered palpable in voice and ear. Words, the material stuff of poetry, are made more vividly present through this residuum of green. Radical without delving into the philologicalroots of words, 'A Thin Green Line' non1etheless gives descriptive language a privileged place inthe literature that is lyrical prose-poetry."
—Marjorie Welish, from her judge's comments for PSA's Cecil Hemley Memorial Award
"In Shira Dentz's poems, memory dissolves into language, dissolves again into feeling, and finally into revelation. Yet she is never lost. How does she keep her bearing? From mourning through laughter, wit and an elegant economy of style guide her way. The result is a synesthetic experience, where colorsmorph into music and sound sculpts itself into shapes: '…your voice has always been a fragment /organized as a flower…'"
—Elaine Equi
"What does it mean 'to let the form of things take over'? Shira Dentz is a poet of thrilling disorientationsand courageous surrenders, a creature for whom the very letters of the alphabet are seeds of wonder, seeds of grief. Against all that is hollow, bland, and bare, she composes and exposes lush landscapesof sound and sight—punctuated by jagged flashes of irony, quirky comedy, and heartbreakinginsight. I relish these poems, and celebrate the appearance of a collection that offers so much thatis rare, artful, tender, urgent, unexpected, and true. And I am enthralled by a mind that gives voiceto so many forms of desire in lines so freely expressing the shapes of our humanity: 'I want to say my life has / been a pipecleaner, beautifully twisted, / in tandem with others like it.'"
—Phillis Levin
More information and to buy the book at Shearsman Books
Or you can buy the book at Amazon
Reviews:
Read an interview with me about the book with Stacy Kidd at The Rumpus here.
Read a review by John Bloomberg-Rissman in Galatea Resurrects (May 10, 2012)
Reviewed by Celia Bland in Boston Review (Nov./Dec. 2011)
Read a review by Valerie Wetlaufer at Drunken Boat here
Read a review by Ann van Buren at The Rumpus here
Read a review by Cindy Hochman at Coldfront here
Reviewed by Holly Welker in The Colorado Review (Fall 2011)
Reviewed by Kristina Marie Darling in Pleiades (Summer 2011)
Read a poem excerpted from the book at Poetry Daily here
Read a poem excerpted from the book at Verse Daily here
Read a review by Erin Bertram at Rain Taxi here
Read a review by Jenny Gropp Hess at Tarpaulin Sky here
Read a review by Joseph P. Wood at Gently Read Literature here
Read a review by Sima Rabinowitz at New Pages here
From John Keene here
__________________________________________________________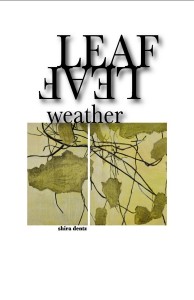 Leaf Weather (Tilt Press, 2009 and reissued in 2nd edition by Shearsman Books, April 2012)

Imagine desire as a boscage, heady with its scents, untamed, infinite in its ability to sex and seed. This is the terrain Shira Dentz paints in her passionate Leaf Weather, a luminous canvas upon which each variation of color, each nuanced line, brings us ever closer to the garden of earthly delights. Like Emerson, Dentz pays homage to the sacred wood wherein songs are "always new, like time itself, or like love."
—D. A. Powell
Veering–often within a single poem, often within a single line–from self lacerating anger to desperation, from mordant satire of the confessional mode to stunned (and stunning) autobiography, from irreverence to a state of fearful silence, Leaf Weather is a "chapbook" in no diminutive sense of the term. In "peeling/away the sun," Shira Dentz unlooses equal parts verbal anxiety, formal adventure, and emotional reckoning. It's one thing to write poems; it's
quite another to live, as Dentz does, in the marrow of one's words.
—Mark Levine
What I admire most about Shira Dentz's poetry is the sometimes wacky, sometimes heart-wrenching precision of her descriptions: "my bubby is a black pump," for example, or "the sky tinfoil" or "fog / a close cousin to the spider web." Always at work is a surprising fusion of self-deprecating humor with vulnerable, self-revealing yearning — "want to make/ suction cups out of the bluegreenyellow air" — and a revelatory insight into the quirky essences of people and things.
—Jacqueline Osherow
Reviews:
Review by Valerie Wetlaufer at Tarpaulin Sky
Review by Noah Eli Gordon at Rain Taxi
Review by Kirsten Jorgensen at Diagram
Buy chapbook at Amazon, Barnes & Noble, & Shearsman Books