Anne Graue reviews SISYPHUSINA
in GLASS: A JOURNAL OF POETRY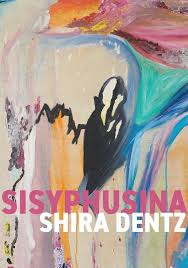 In the introduction to Best American Experimental Writing 2016, Charles Bernstein and Tracie Morris assert that "The exploration of identities has always been at the center of radical and exploratory poetry. Indeed, you can define a difference between official verse culture and its opposites as one between work that assumes a fixed identity and work that forges new identity constructions. In this sense, identity is a space for exploration, invention, re-creation, and experimentation." (2016) In Sisyphusina, Dentz has inhabited the space where identity thrives, and she has stayed there long enough to fashion authentic ideas from a unique perspective. She has opened up possibilities for text and intertexuality in relating what is it is like to be "swinging between age and youth, / … not ready to be encased like / an iridescent gray branch.
Read the entire review by Anne Graue in Glass: A Journal of Poetry here