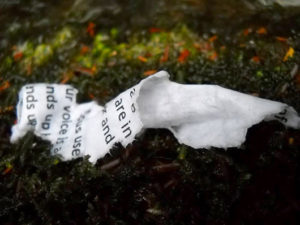 During the month of November you will see a bevy of new work at the magazine that I curated/edited as Special Features Editor — twelve new reviews, along with an essay by Anne Gorrick and an interview with and new music by Pauline Oliveros.
Anne Gorrick — "Taking Text Outside = Interstitial Acts" — which begins: "Let's think a bit about textual art that is ephemeral, outside, fugitive; text that isn't carved into a building or a street or a stone or a wall.  Let's note the diminutive textual adventure.  The infinitesimal moment.  I want to think about earth texts beyond shelter.  Going outside brings the death in a little, releases the work into the air.  Poem as prayer flag.  Poem as act against the immaculate.  Text as emphatic and intimate protest."
Renee Gladman's Calamities (Wave Books, 2016), reviewed by Aisha Sabatini Sloan. "Each essay in Calamities has about it the quality of Ikea instructions. Instead of a bookcase, though, these are directions for a cardboard device that makes the world look different than it was, like what Michel Gondry might try— a pinhole camera or chakra lenses or Google Glass. The thing she is telling you how to make is pure imagination, it is not something you would or could bring to life—but you can wear it by reading her essays."
Craig Dworkin's Alkali (Counterpath Press, 2015), reviewed by Martin Corless-Smith. "Alkali is a magisterial kunstkammer, a new periodic tableau planted in a crystal garden of arcane knowledge and preposterous invention, a glockenspiel orchestration of aural augury that dances an irresistible instance of our geo-lyrical world."
Upcoming reviews include C.D. Wright's Shallcross reviewed by Celia Bland; Joy Harjo's Conflict Resolution for Holy Beings reviewed by Kelly Lydick; Michelle Detorie's After-Cave reviewed by Nathan Hauke; Vi Khi Nao's The Old Philosopher reviewed by Cheryl Clark Vermeulen; J'Lyn Chapman's Beastlife reviewed by Arianne Zwartjes; Ravi Shankar's What Else Could It Be reviewed by Ralph Pennel; Anca Cristofovici's Stela reviewed by Matt Kirkpatrick; Barbara Duffey's Simple Machines reviewed by Christine Stewart-Nuñez; and Joseph Massey's Illocality, and Jean Valentine's Shirt in Heaven, both reviewed by Elisabeth Whitehead.